Skitch is free and can be accessed via its website or as an App. It allows users to annotate and share a new photo, one from their Camera Roll, or a web screen shot making it a very flexible classroom tool.
An Aid to Classroom Management
Students can be photographed either individually or according to where they usually sit, at the beginning of term, and their names or college identity numbers written over the photo.  This will help the teacher learn student names quickly or at least have a quick reference tool when in class. Students who have individual iPads can take a photo of something easily identifiable to them and use Skitch to write their name on the photo. This can be set as the Home Screen and Set Lock Screen, so that the device is easily identifiable.
The blank slate function can also act as a whiteboard which teachers can use when moving amongst students. It can be used with individual students or with the whole class via the projector.
An Aid in Providing Feedback in Written Work
Teachers can take a screen shot of student work, which then becomes saved in Camera Roll. After importing the photograph into Skitch, they can annotate the student authored text using a variety of colours and choose between handwriting and typing. Lexical items, sentences or areas of text can also be boxed and commented on.  Now in image format, the marked work is emailed to students who save it, insert it into a writing document and make the changes necessary to improve their work.
An Aid to Giving Clear Instructions
Annotated images provide students with clear directions on which icons to tap, the sequence to follow, the codes to submit etc. Individual images can be embedded into a Keynote Presentation or a Camera Roll Slideshow, and used in whole class lockstep or at the learner's individual pace. These instructional clips enable teachers to circulate and provide individual help. Skitch annotations can also be embedded into PDF instructional sheets.
An Aid to Classroom Games
The Pixel-blur function helps create information gaps which lead to genuine classroom communication. For example, target vocabulary items can be partially blurred, adding another dimension to naming lexical items. Instead of simply asking 'Can you name this word in English?' the teacher challenges students to use their imagination.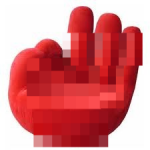 The same effect can be achieved with the crop function. Blurred images can be effectively used in tandem with the flashcard App A Pro +.  Blurred images prompt the use of modal of possibility, as in the man up the ladder might be cleaning the windows or he may be locked out of his house.
In the thieves' scenario, one witness can describe thief one to the police and, the other thief two. Before being interviewed by the police, the witnesses also share their descriptions with each other.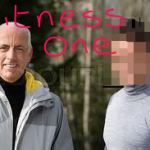 Ease of Use
Skitch is very easy to use and share, although there are occasional glitches during which the delete icon keeps reappearing whilst users try to write with the pen and sometimes marks slide down the page. One tip is to save the image to Camera Roll before writing too much. As Skitch is owned by Evernote, it also works more reliably and offers a save option if you have an Evernote Account to which it is synchronized.
I would certainly recommend this versatile programme as a key mainstay of your teaching toolkit.
This App review first appeared in Perspectives Volume 19 No. 3 produced by TESOL Arabia and was republished in this blog with their permission.