In the United Arab Emirates, three large federal institutions are now ending their first semester of learning and teaching through iPads in Foundations Courses. Everyone involved in this initiative was issued an iPad, participants could not bring their own devices. This uniformity aided collaboration and a shared learning path.  In this blog entry, we would like to summarize the journey we took from May 2012, when the iPad initiative was announced, until the final assessment week towards the end of January.
Preparing Teachers to Teach
Developing Expertise From Within
As soon as it was announced that teaching and learning in Foundations Year classes was to take place through iPads, there was a call for volunteers to be trained up as iChampions (digital leaders). Each institution needed to elect iChampions from every language level to be involved in the innovation. iChampions were given initial training from Apple Distinguished Educators and incorporated iPads into their lessons so that they could identify strengths, needs, possible pitfalls etc. These digital pioneers met regularly to discuss progress and to:
Identify core Apps that would be purchased for all three institutions and pushed to student and teacher iPads.
Design a training program for staff to be delivered within their institutions by the iChampions and at professional development days
 Support the training program with an iPad Orientation Checklist. The staff checklist included the sub skills needed to be able to use systems preferences, Safari, email set up, App store & Itunes. etc. A separate Orientation Checklist was also devised for students to be used in the first week of the course.
Produce 'How to' instructional PDFs and screen-casts as a resource for teachers. For example, how to use Apps such as Nearpod, how to add email accounts to a device, and how to set up Webdav connections (Webdav is an open-standard protocol which supports most iPad Apps).

This training/reference material was made available through the iFiles App, on a shared Y drive.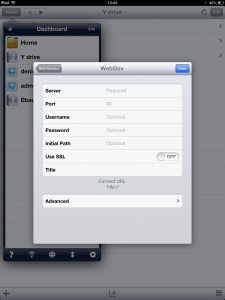 Flipped Training
Teachers were issued with iPads in June and asked to prepare themselves for professional development sessions by getting acquainted with the iPad device itself and the iOS system through a set of online resources. These included:
Scotutor http://www.screencastsonline.com/appstore/scotutor_for_ipad
17 Tips n Tricks by SimplyZesty http://www.youtube.com/watch?v=qKRN-W-ro4M
Lynda.com http://www.youtube.com/user/lyndapodcast ,
Preparing for iChampion and Apple Distinguished Educator led f2f (face to face) presentations, by getting to know the basics, meant that 'learning by doing' training sessions were efficient and beneficial. The pre-summer iCelebrate Conference plenary sessions were designed to deal with overriding themes including m-learning workflow paradigms such as Flipped Classrooms, Learning on the Go as a result of Cloud Computing and Challenged Based Learning, and what it means for mobile learners to be able to consume, create and curate digitally.  Hands on workshops focused on the specifics of teaching such as a typical workflow (lesson plan) and the Apps used to bring it together. One session presenter covered Apps for delivering material and explaining language, Apps for form focused work in terms of vocabulary and language structures and Apps for encouraging student output in a production stage. In addition, there were App specific sessions on for example Explain Everything, and iAnnotate.  These sessions were conducted by iChampions based on their iPad trial period and related specifically to the materials taught in the U.A.E and the local context that participants work in. This gave validity and credence to the presentations.
Pre-summer institution based training centred on creating educational materials on iBook Author and Creative Book builder. Mac computer labs were set up and educators were encouraged to convert existing materials into iBooks and create new material that take advantage of new digital interfaces such as interactive exercises and embedding multimedia.
Pedagogy and Personalization
Teachers were encouraged to experiment with their iPads over their summer holidays and some institutions added a competitive verve to this by running competitions for the best vacation iMovie etc. Faculty were also encouraged to share their experiences on U.A.E created websites such as http://ipadsuae.blogspot.com/ and  http://ipads.hct.ac.ae/ . The latter hosts The Teachers' Lounge 'where staff can share best practices, strategies (Curriculum, Pedagogy and Assessment), peer support, classroom ideas, tips for classroom organisation and more in their use of iPads in Education'.
It was made clear that apart from the core Apps pushed to everyone's iPads from a shared Apple Store ID, educators would be free to choose the platform and Apps of their choice. Each campus was also allocated a budget to spend on Apps their teachers wanted to use. Subject leaders (English and Math) collated a list of Apps the subject teachers wanted to purchase and these Apps were purchased by a faculty Apple account.
Teachers worked in teaching groups to brainstorm action lists  and to experiment with platforms e.g.  Google Docs, Evernote, Edmodo, E-Backpack and Dropbox.
A Shared Y Drive and portal accessed via a WebDav connection from the iFiles App was also set up. These are organised on a hierarchical folder system, moving from faculty course, to language course level, to skill, to unit of study. (See photo above).  Each teacher was provided with their own Teacher's Folder, within the course level they were teaching. The Y Drive has ultimately proved to be the best way of sharing materials and 'how to' rubrics among teaching staff.
Each campus was also given a budget to buy Apps requested by specific teams of teachers. As this is a learning process for everyone, there is an atmosphere of experimentation and on going research into what meets our context specific needs best.
Further Training
Before classes began, teachers had two weeks of training and materials preparation. This was carried out by the teachers themselves. They were divided into teams, with each team being assigned a set of skills that they needed to familiarise themselves with, and then present to other teachers in workshops. Each team was responsible for creating a workflow with specific Apps targeting curriculum related learning outcomes.
Learning outcomes included:
Working with iWorks (Pages, Numbers and Keynote)
Setting up the device e.g. choosing systems preferences appropriate to the classroom situation, altering font size through accessibility etc.
Setting up communication systems e.g. adding email accounts to a device, synchronizing calendars etc.
Consuming material e.g. Neu Annotate, iTunes University iBooks, You Tube etc.
Creating material e.g. Creative Book Builder, Scribble Press, iMovie, Puppet Pals, A+ Pro Flashcard etc.
Curating material e.g. Flipboard, Scoop It etc.
The training covered in the teacher led workshop week was directly related to the week of iPad orientation training that teachers would give to their own students in the first week of term.  Hence, training also doubled as lesson planning and a dry run for the week ahead.
As each classroom is equipped with Apple technologies, it was essential that all staff knew how to set up and operate the system. Training of this very technical nature such as how to connect to Apple TV and Airprint were provided by IT Departments.
Continuous Professional Development
Once courses started, extra support was provided via synchronous  virtual iPad training seminars which took place on Elluminate. Institutional f2f training took place on a need to know basis. All staff needed to be trained on how to produce and administer exams using the AC Tests App and Website in conjunction with the Guided Access function made available with iOS 6.1.
In addition, some colleges started up a genius bar system peopled by volunteers who were available for at certain times of the day to provide 1:1 micro training at a practitioner's request.
Preparing Systems to Support The Teaching and Learning
IT Support
Any educational institution needs a strong IT department in order to have a seamless connection between individual devices and wireless systems that is secure. Throughout the semester there were many glitches which could not be resolved without IT expertise and it was extremely useful that both students and staff could call on a team of experts whenever necessary. The IT Department were also responsible for pushing core Apps onto all iPads, and providing each student with an individual Apple ID and password at the beginning of the year. They were available to help out with technical glitches when students carried out iPad based assessment.
Digital Resources
All resourcing is digital and so e-course books and graded readers were bought from major EFL publishers. Online material produced by staff from the institutions involved in the initiative, are used to supplement published material at present. Transitions such as a move to Blackboard 9 and Blackboard Mobile were made to make them digitally compatible with iPads.
E- Assessment
In line with the paperless approach,  ways to deliver secure exams on iPads were sought. The Guided Access feature in iOS6 and the AC Tests App were found to be suitable.
The Way Ahead
The second phase of iPad integration will involve Bachelor's degree teachers who were not part of the initial training scheme. Their training will be provided by educational technology specialists, and supplemented with help from an iPad buddy who has spent the last semester teaching through iPads.